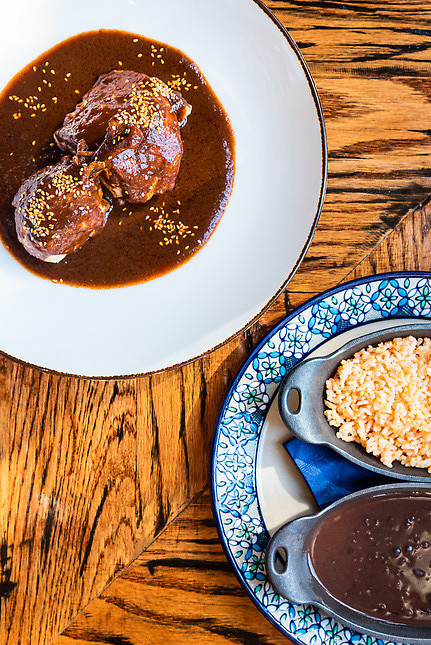 De Mole opened to showcase some of Mexico's best-known dishes in our Brooklyn Mexican restaurant. We use herbs and spices imported from Mexico to give our recipes pure regional Mexican flavor. Our signature dish is, of course, Mole Poblano, which takes five whole days to make. The mole is a three-generation old recipe from our family, combining over 26 spices, each ground, and smoked by hand. 

Our first Mexican restaurant in NYC is in Sunnyside, Queens, where the family has been in business for over 15 years. Come check us out and see why the locals keep coming back after all these years. Happy Eatings!
ABC NEWS Neighborhood Eats
Jose Luis Flores
Chef / Owner
Chef  Flores is Dedicated to Diversifying Mexican Cuisine.  

In his year as a restauranteur, owner and executive chef Jose Flores has narrow his menu to focus on getting Mexican food to be recognized for its layers of complexity, and unique flavors.  

Octopus carnitas, red snapper ceviche with yellow tomato sorbet and recqueson beet salad are just a few examples of the variety

chef-owner Jose Flores creates.
Ruth Nuñez
Executive Chef
When De Mole, a family owned NYC Mexican restaurant opened in Williamsburg, executive chef Ruth Nuñez, wanted  to expand what people thought of mexican food in Brooklyn beyond tacos and burritos. She lured locals to her Brooklyn Mexican restaurant by expertly preparing Mexican dishes like aguachile and mole. To Nuñez, Mexican gastronomy is an art form, based on ancient techniques she's learned throughout her career.  In her  year as the executive chef of the Brooklyn Mexican restaurant De Mole, Nuñez has narrowed her menu to focus on sourcing the best quality, seasonal ingredients. De Mole's seasonal menu is inspired by Latin America's diverse gastronomy. 

Daniel Flores
Beverage Director
Beverage  director Daniel Flores is serving up a modern Mexican inspired cocktail menu in his Williamsburg bar.  Flores wants to evolve Brooklyn's cocktail scene while also teaching the community about Mexican spirits via the classics. De Mole is currently the only Agaveria cocktail bar of its kind in the Brooklyn neighborhood. At De Mole, Flores  uses housemade bitters, oils and syrups to give patrons a unique experience in the Brooklyn Mexican Restaurant. Flores has curated his bar with rare Mexican agaves and spirit that are from small family owned distilleries throughout Mexico.